Jeram Lenggeng Waterfall
本地名称  Local Name
Air Terjun Jeram Lenggeng

| | |
| --- | --- |
| 地点 Location | Hutan Lipur Lenggeng, Lenggeng, Negeri Sembilan. |
| 坐标 Coordinate | N2.83915 E101.97604 |
| 类型 Profile | Stream |
| 海拔 Elevation | 141m. |
| 高度 Height | +/- 10m.  |
| 面向 Facing | North east |
| 进入 Access | Easy access. |
| 难度 Difficulty | See below.  |
| 源头 Water source |    |
| 距离 Distance | +/- 5km from Lenggeng. |
| 水池/营区 Pool/Campsite | Dipping pool, campsite is available in the park.  |
| 导游 Guide  | NA.  |
| 收费 Fee | NA.  |
---
Waterfall rating :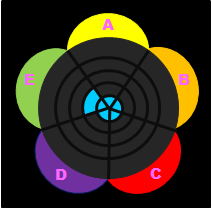 Hiking Difficulty : [1]
轻松公园步行。
Easy park walking.                                                                           

Hiking Time : [1]
少过5分钟。
Less than 5 minutes.
Leech Factor : [1]
Vechicle Accessibility : [1]
良好柏油路。
Tarred road.
WOW Factor :  [2]
Weather
---
在结束某个森美兰州旅程前,我们来到Lenggeng休闲公园歇歇脚。据说这里有瀑布,也顺道来探个究竟。这里位于Lenggeng森林保护区,离Lenggeng镇约5公里(N30号公路),而离芙蓉市(途经Pantai)则需26公里。森美兰州那独有 "一支柱" 造型的牌子肯定不会让你错过公园的入口处。
We had a quick visit to Hutan Lipur Lenggeng before we leave Negeri Sembilan during 1 of our trip. The location is at Hutan Simpan Lenggeng, about 26km from Seremban through Kampung Pantai (Jalan Kuala Klawang) or 5km from Lenggeng (road no. N30). You won't miss the entrance as there're unique 'stick' signposts for all the hutan lipur in Negeri Sembilan.
Lenggeng公园入口处。
The main entrance of the Hutan Lipur Lenggeng.
与门庭若市的Jeram Toi公园相比,这公园看来人烟稀少,园内偌大的停车场也显得格外冷清。
The quiet carpark.
察看公园的地图,设备还蛮齐全。还是老问题 - 疏于打理,设备都显得有些老旧。
Check out the layout map of the Hutan Lipur Lenggeng, it is well facilited. But some of the facilities looks less maintainence.
幸好,公园的小径还算完整,让我们参观得轻松。
Well cemented path make our visiting easier.
Lenggeng瀑布其实是由一组小瀑布形成,有些小瀑布层还有浅水池,适合小孩戏水。
The waterfall in the Hutan Lipur Lenggeng is formed by a series of small cascade. Some has a small dipping pool just suit for family outing.
这也许是Lengeng主瀑布吧。
Perhaps this is the main & tallest cascade in the park.
公园步径一直沿生到瀑布的顶端。
The path is built all the way to the top of the cascades and ended at a hut.
至于瀑布的上流则没什么,只是普通小溪。
That's nothing special at the upper stream, just a shallow flat riverbed.
---
Have you been to the Jeram Lenggeng Fall?
Share your experience with us!